Description
More about wholesale Pot Sets
Most of our wholesale pot sets include silicone grip handles that stay cool on the cooktop while cooking. To lock in heat and taste, the tempered glass lids fit snugly on the rims of pots and pans.
The thick, forged bases are designed to heat evenly and eliminate hot spots for nicely browned results on any burner. The cookware interiors and handle rivets are triple-layer, PFOA-free non-stick for smooth food release, and have a non-stick cooking surface. This heavy-duty grill pan is ideal for excellent steakhouse sears on any burner.
Our Most Popular Pot Sets Bulk supplies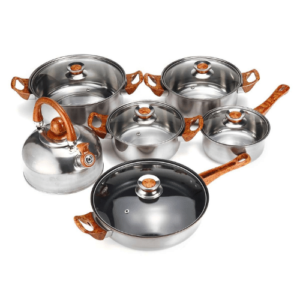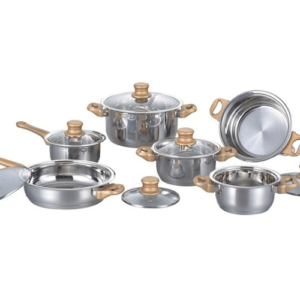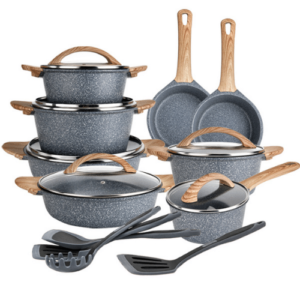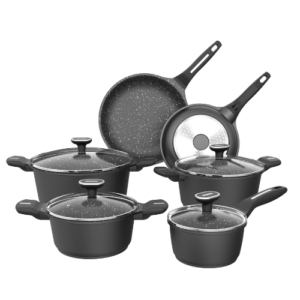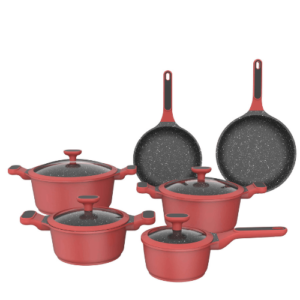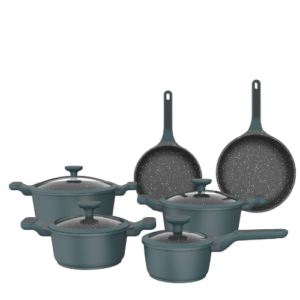 These pots deliver quick heating performance. The forged aluminum bases and thinner sidewalls ensure that the pots are heated efficiently. Heat is distributed thanks to the spiral bottom evenly. These pots can be used on gas, electric, or glass stovetops.
Tempered-glass lids keep heat in, allowing you to get the maximum flavor from each ingredient. The stockpot and lids have extra broad handles for a firm, secure grip while cooking. Induction-compatible pots and pans oven safe to 500°F, 350°F with lids, tackle recipes straight on. Easy to clean in the dishwasher.
Why Your Customers Will Love Cooking With These Pots.
When cooking with our pot sets, your customers will have more control over the heat and get consistent results. These pots and pans are made of heavy-gauge, hard-anodized aluminum. They are durable enough to be used daily in the kitchen to try new recipes and cooking techniques. The hard-anodized aluminum is 6x more rigid than regular aluminum. They offer a triple-layer non-stick surface for easy cleaning and long-lasting food release.
In addition to our wholesale pot sets, we also supply other kitchenware like blenders, camping pot sets, coffee machines, and much more. Send us your inquiry today to receive our full offer on these pot sets within 24hrs.