Description
This multifunctional kitchen food mixer is suitable for online retailers as well as those who have physical stores or distributors. The quality is one of the best on market due to its stamina and durability. There are different plug types available on demand depending on your target market.
This food processor comes with a 12 months warranty policy which you can pass on to your customers. Normally this kitchen food mixer can last for 10 to 20 years if the user takes good care of it.
Kitchen Food Mixer at a Glance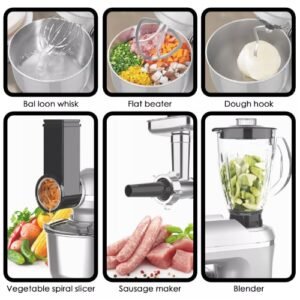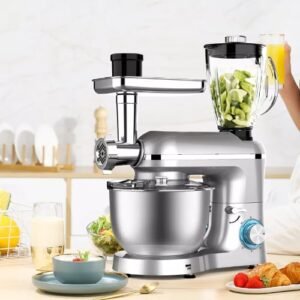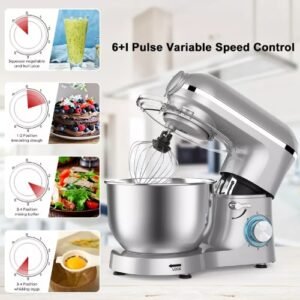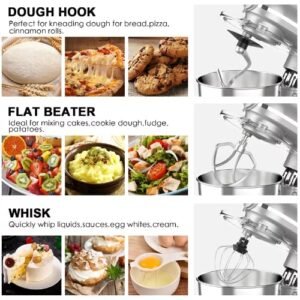 Technical Specifications of this Food Mixer
Power: 1400w pure copper motor
Capacity: 5.5L stainless steel bowl,1.5L glass jar
Standard accessories: Dough Hook, Beater, Egg Whisk, Egg White Separator, Glass Jar, Meat Grinder
Optional accessories: Cover, Metal Head Whisk, SS Dough Hook, Sausage Stuffer, Slicer, Cookies Maker, Metal Flex Edge Beater
Decibel: low noise level,72~78DB within 1M
Configuration: Full metal gears + ball bearing + belt structure +LED indicator light
Speed knob: 6+0 speeds rotary knob with pulse function
Life test: 1000 cycles for dough kneading,3000 cycles for egg whisk
Drop test standard: 1.0M~1.3M( one corner, three edges & six sides)
Optimum dough mixture: 600G flour+320G water
Suggested dough mixture: 1000G flour+530G water
Max dough mixture: 1700G flour+900G water
Order Information
Minimum order quantity: 100 units
Lead time: Depends on the quantity
Customized Logo: Minimum 100 Units
Customized Packaging: Minimum 100 Units
For more information, please send us your inquiry and we will get back to you within 24hrs with a full quote about shipping. Besides this kitchen food mixer, we also supply other kitchen tools like kitchenaid mixer, pot sets, and more.