Description
Browse the wholesale stainless steel pot sets catalog below and find the cookware that satisfy your customers needs. These stainless steel cookware sets are ideal for all kitchen types. You will easily wow your customers with the quality, design, and affordability of these pot sets.
Type and Style of available Stainless Steel Pot Sets
As mentioned before, you can get all kinds of different stainless steel pot sets at affordable rate. In the catalog gallery below, you will find, stainless steel cookware sets that are luxurious, mini food steamers, non-stick, induction features and much more. There are sets from 5pcs to 10pcs available.
Golden Cookware Set with Frying Pan and Milk Pot
Pot set with Frying Pan and Milk Pot Dark Green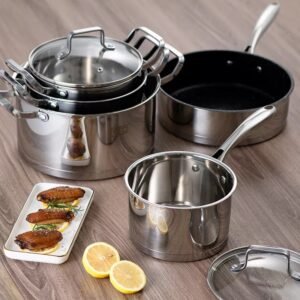 Metal Surface Pcs Handle Feature Eco Material Origin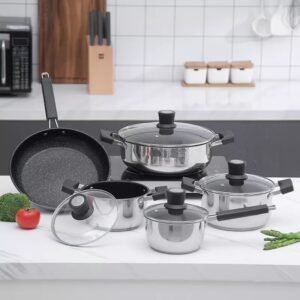 Stainless Steel Cookware Set for Induction Cooker
Didn't find the exact style you are looking for? No worries! Just let us know your specific needs and we will get the right product at the right price for you. We are working with top quality assurance and reputable manufacturers of high-quality stainless steel pot sets.
Want to sell these pot sets with your own custom brand on the products? Still, no worries there. We offer OEM possibilities to our customers as long as they meet the minimum order quantity requirements.
Important Information About Buying these Pot sets
Are you a manufacturer? No! We are not the manufacturer of these pot sets. We work directly with top manufacturers from all over the world to ensure we provide our customers with the best quality.
Customization Option: You can request the customization of these products with features like the molds, design, accessories, packaging, patterns, logos as well as sizes.
Obtaining a Sample: You can request a sample to check the quality before making a high purchase. But note that you will have to pay for the sample and delivery costs. Send us your request and we will get back to you within 24hrs.
Minimum Order Quantity: The MOQ usually start from 800 units. But there is a possibility of lower MOQ depending on your market or readiness of the design you choose. If what you choose is already in stock and ready for shipment, the MOQ will be lower. Again contact for more details.
Delivery Duration: The delivery takes between 15 to 45 days depending on the quantity and customization option. But you can be rest assured that the delivery will be scheduled according to the agreed time.
Besides stainless steel pot sets, we also supply other cookware and kitchenware products. These products are kitchen food mixers, espresso coffee machines, airfryer ovens, pressure cooker, rice cooker and much more.