Description
EPAL wood pallets are designed to meet the requirements of the demands of our customers in many sectors like food processing, glass and plastic bottles, chemicals & petrochemicals and labor intensive industries. Their high strength & durability make palletization easy, safe and sustainable.
With the globalization and the rapid development of international trade, EPAL pallet have an increasingly important role in transportation, logistics, and production.
More Information about Euro EPAL Pallets:
So what wood is used for EPAL pallets? The wood used for EPAL pallets is usually hardwood, which is more durable than softwood. However, both types of wood are used. The most popular hardwoods used for pallets are:
Are EPAL pallets treated? Yes, EPAL pallets are treated. They are treated with methyl bromide, which is a fumigant that kills bacteria, fungi and other insects. This treatment does not make the pallet unsuitable for food use.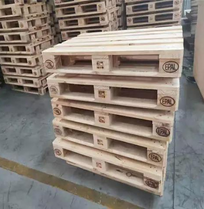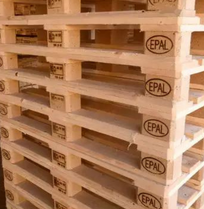 The pallets are then dried and stored in a warehouse before they are shipped to customers. The treatment is not dangerous, as long as the safety precautions are followed when handling the pallet.
Functions of our Wholesale EPAL Pallets
Epal pallets are used widely in the heavy industrial space. The main function of our Euro pallets is to minimize the transport workload or reduce the time of moving various goods.
Nowadays, every industry needs pallets to properly organize their storage facility as well as effortlessly transport their goods from one location to another.
Are Euro pallets safe to use?
Yes, Euro pallets are safe to use. Euro pallets are made from high-quality, durable hardwood and are carefully constructed to meet strict industry standards. They have been certified by the European Standardization Committee (CEN) as safe for use with food products.
If you have questions about the safety of the wood used in your pallets or if you need help identifying your pallet type, please contact us.
In addition, you also have take certain precautions when buying a euro pallet. These precautions are;
First, make sure that any Euro pallets you use have a serial number on them. This will help you track down where these pallets are coming from. This will also help you know if there is any concern about the safety of the wood the manufacturer used in the production process.
Second, make sure you keep your Euro pallets dry. If they get wet, they can warp and become unusable in just a few days!
In addition to euro pallets, we also supply wood pellets, wholesale firewood, wood shavings, as well as wood chips.