Description
About The Different Medical Face Masks We Have
We offer you the possibility to import one or more of the different face masks available. You can order 3ply surgical face mask or 4 ply medical face masks. In addition, there is also the kn95 respirator mask available for shipment. Nevertheless, you can also have your labels and brand name on the packages because we offer customized packaging.
3 ply, 4 ply Surgical and Medical Face Mask
3 ply medical and 4 ply surgical face mask at a highly competitive rate. We have available from different brands to suit different markets. These are available only with the elastic earloop. Protection from high-risk patients and procedures involving high levels of spray, spatter, moisture and airborne particles. There is the availability of different colors such as pink, green, orange, purple and of course blue. The fit and protection levels of these masks are of top quality.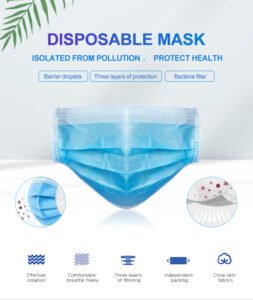 kn95 Respirator Mask
This creates a tight seal around the face with the help of the aluminum nose piece. Reduces gapping and providing better protection for the wearer. This Kn95 respirator face mask is ideal for anti-dust and anti-bacterial protection at all times.
N95 Respirator Face Mask
NIOSH approved duckbill cone respirators. With a feature of 95% filter efficiency level, and provide protection against particulate aerosols. In addition to the Noish, it is also CE approved. We know some clients want OEM masks but others like established branded masks. As a result, we also offer from well-known brands like 3M and Medicom. So, you can be rest assured we can supply your requirements.
Similarly, we also offer other medical equipment like hand gloves and Braun thermometers.