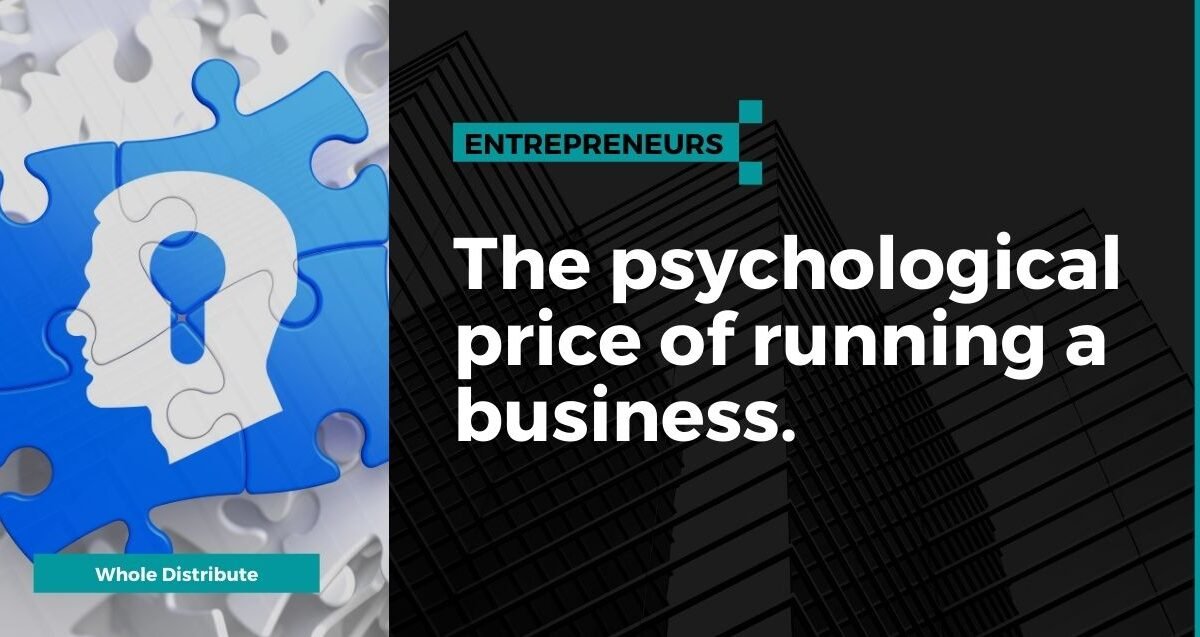 On the surface, becoming an entrepreneur appears to be a thrilling prospect:
Following a passion
Choosing your hours
and presumably generating a lot of money
However, the pressures that come with getting a firm off the ground may be enormous. Attempting to portray a confident image to investors, clients, friends, and family can be exhausting.
Entrepreneurs are more prone than the general public to suffer from stress. Here's a look at some of the psychological and fear factors that might accompany launching a business.
1. The fear of failing
When launching a business, there are sure to be problems. For people venturing out on a limb for the first time, mistakes are expected. These blunders may lead to a pattern of negative thinking that stifles potential growth.
Consider failure as a step toward your goals rather than the conclusion of a trip. When you make a mistake, don't criticize yourself. Put your newfound knowledge to good use.
When you make a mistake, think about it, learn from it, and try again. If you keep trying, you will eventually succeed.
2. Concerns about your health
When problems at work become overwhelming, the last thing on a small company owner's mind may be to exercise or eat a healthy diet. However, there is a link between work-related stress and unhealthy behaviors.
The first line of defense against mental anguish is to take care of your body. Your physical well-being influences your psychological well-being, and your ideas and emotions can affect your physical well-being.
Exercise does not only improves your mood, clears your mind, and sharpens your thinking ability. It also improves your mood, clears your brain, and sharpens your thinking capacity.
3. Overwhelming stress
Entrepreneurial stress, like that of any other profession, is unavoidable. However, the stress that comes with a startup may be unfamiliar territory, and the responsibility that comes with it may be scary.
Learning to accept it rather than run away from it is a big part of dealing with it. Never fool yourself into thinking that starting a business is simple.
The stress can be overpowering. Unless you learn to manage and regulate the anxiety, you'll have to prepare yourself for the gut-wrenching sensations that will come your way in the early stages.
4. Anxiety
Anxiety can evolve into a negative behavior trait, just as stress can become a black cloud that forms over our heads. The constant concern will not improve a small company owner's mindset or approach, which will likely lead to feelings of overwhelm.
The stress of knowing that your ability to pay your mortgage this month is contingent on closing the next sale generates a lot of anxiety. You might also have anxiety problems if you can't spend time with your family because you have to keep working.
Many entrepreneurs find it difficult to operate correctly because they are continuously worrying about their firm.
Their incredible drive to succeed might lead you to second-guess your decisions and dwell on worst-case scenarios. You might even get immobilized by your continual concern, which can lead to burnout.
5. Relationships with others
Disappointing days at work are unavoidable. From poor news about the company's financial situation to a personal career path that isn't moving in the right direction to difficult circumstances with workers or clients can get you in a bad mood.
What you do with your dissatisfaction when you leave at the end of the day can significantly impact your mental health. To put it another way, don't bring it home and let it harm your relationships.
Although starting a business will always be a roller coaster ride, you can protect yourself from spiraling out of control.
Make time for your loved ones first and foremost. Allowing your business to suffocate your human ties is a bad idea. Relationships with friends and family may be practical tools in the fight against depression.
6. Putting your mental health before anything else
Running a company is a full-time job, with an emphasis on full-time. Taking on too much responsibility, disregarding your health, and overworking yourself are all circumstances that any mental health professional would advise you against.
You must be at your best intellectually, physically, and emotionally to manage a successful business.
Mental health disorders may have crippling consequences for your business, as well as your personal life. You can't make sensible judgments when you're burned out or stressed out.
Here are a few suggestions that you must follow to take care of your mental health.
>> Give time to yourself.
Self-care entails setting aside at least a modest amount of time each day for oneself. Gardening, painting, reading an excellent book, having a hot bath, or going out for coffee with a loved one are all examples of relaxing activities.
Remind yourself of all the activities you enjoy doing and the people you want to do them with, and then make it a point to do at least one of them every day. Not only will this make you happier and remove some tension, but knowing that you have that time to look forward to will also help you get through your days.
>> Avoid making unhealthful comparisons.
We're led to assume that everyone enjoys their best life on social media, traveling, purchasing homes, and running great businesses. The border between fact and perception is getting increasingly blurred, which might make you feel awful about yourself when you're having a poor day.
On social media, the comparison is inescapable, and psychological research has shown that it leads to a slew of mental health issues.
Self-doubt, worry, and even melancholy might result from believing you're the only one dealing with your workload or not having achieved this level of achievement.
>> Learn how to ask for assistance
This is one of the most basic acts, yet it takes a lot of bravery. It's possible that telling someone you're having trouble managing your workload or that you're having emotional difficulties would make you feel weak.
As a business owner, the last thing you want your employees (or investors) to know is that you're stressed. Still, the longer you attempt to hide it or compensate for it, the worse it will get.
Asking for assistance is one of the most powerful things a person can do. Recognizing your limitations and making the necessary efforts to overcome them is a sign of a strong leader. It will set a good example for your peers.
>> Sleep, eat and exercise regularly.
This one may seem self-evident, but sleep deprivation, a poor diet, and a lack of exercise are all detrimental to your mental health. Lack of sleep also affects your physical health.
Though it may be challenging in the fast-paced startup world, adhering to six crucial daily actions might determine whether your company succeeds or fails.
Entrepreneurs are more prone to mental illness for various reasons. One of which is that they are more likely to disregard their health. Pushing yourself to your limits might make you vulnerable to mood swings, making stress and worry even more challenging to deal with.
>> Therapy isn't anything to be terrified of.
If the stress of being an entrepreneur becomes too much for you, get professional treatment as soon as possible from a mental health specialist.
What makes this any different from hiring accountants, attorneys, and other experts for tasks you can't do on your own? Consider it the most significant investment you'll ever make. Self-care is helpful to your well-being and makes good economic sense as an entrepreneur.
Feelings of anxiety, melancholy, or tension are symptoms that you're ignoring your mental health while running a business. Remember to follow these guidelines if you want to manage a profitable business without jeopardizing your happiness or well-being.
Bottom-Line
As an entrepreneur, don't get frightened by the challenges you might encounter or think you will meet. Take one step at a time to properly manage and grow your business.
Don't stress about situations but relax and calmly think of solutions to tackle or overcome the obstacles.