Description
These wholesale Rockstar energy drinks come in different flavors, which buyers can choose from when sending their inquiries. The can size 500ml, and there are 24 cans per tray for the standard packaging. We also offer other variations of packaging based on your requirements.
Where is your delivery destination? As long as your shipping destination is known to freight forwarders and shipping companies, we can organize the delivery. These Rockstar carbonated drinks are shipped from Europe to internal delivery ports. Shipments can come through air freights or ocean freight depending on your preference.
Loading and Packaging details of Our Wholesale Rockstar Energy drinks:
24 * 500ml Cans per tray

108 trays per pallet

16 pallets per 20ft container

24 pallets per 40ft container
Available Flavors Of This Energy Drink
We know different markets love different flavors of Rockstar Energy Drinks. For this reason, we offer different flavors as well as volume for these wholesale carbonated drinks. If you can't find the flavors you want, contact us, and we will handle it as soon as possible.
These flavors are; Pineapple & coconut, Frozen Watermelon, Passion Frutas, El Mango, Machu Peachu, Blue Rasberry, Green Apple, Grape, Blueberry Pomegranate Acai. The XD power flavors include Berry Blast, Hardcore Apple, Waldmeister Boost, Original. As for the Classic flavors, you can select from four different flavors: Mango, Orange passionfruit, Tropical Guava, and Amazing Taste. There are new flavors from Hemp.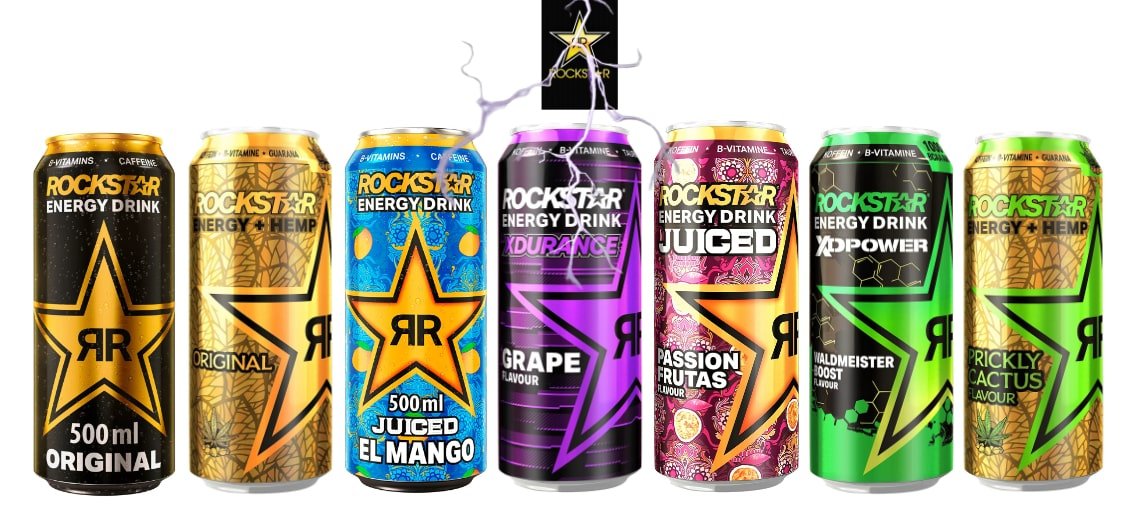 Besides our available wholesale Rockstar Energy Drinks, we supply other wholesale drinks which you can find in the catalog page. In addition, you can inquire about Red bull Energy drinks, Monster and a lot more.