Description
This wholesale monster energy drinks offer is also for international buyers who want to extend their supply chain network. Working with a good number of warehouses and storage locations, we can get you faster shipping at better rates.
Being a reliable monster energy wholesale supplier and facilitator, We ask our clients to purchase monster energy in bulk. The more the quantity, the better the price we offer. Stock up your store or online shop with these energy drinks and enjoy substantial business growth.
There's always a high probability that someone will walk into your store and look for a can of Monster Energy on your store shelf, fridge, or storage unit. So why not just stock up on one of the planet's best-selling energy drinks as early as now? With the help of a cheap Monster Energy bulk wholesaler such as us, Pallets or truckloads of this famous beverage brand are within your reach. We supply soft drinks to significant cash & carry wholesalers, the foodservice industry, retail distributors, vendors, and retail outlets.
Available Flavors Of Our Wholesale Monster Energy Drinks
In addition to the Natural flavor, below are the different flavors we can supply. Contact us if you can't find the flavor you want to import and we will make sure to help you outsource it.
Flavors: Natural, Ultra white, Ultra Fiesta Mango, Pipeline Punch, Ultra red, Monarch, Ultra Violet, Mango Loco, Lemon, and Ultra Paradise.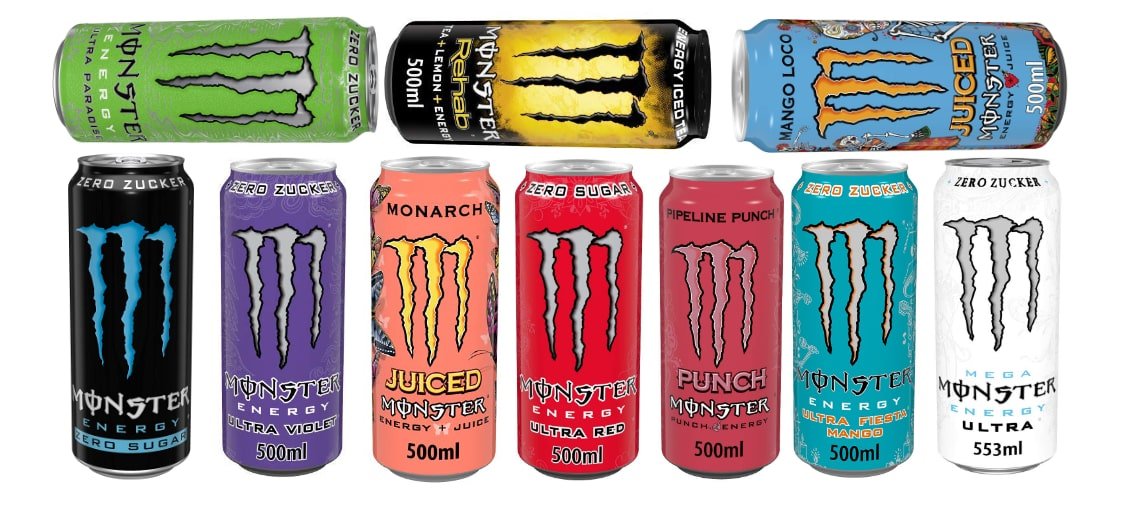 More Details Of This Monster Energy Drink
Package Dimensions: 40.7 x 37.29 x 16.9 cm

Weight of each tray: 12 kilograms
Product Name: Caffeinated soft drink with taurine, L-carnitine, guarana, B vitamins with sugars and sweeteners.
Additives: With coloring, Increased caffeine content. Not recommended for children and pregnant or breastfeeding women, With preservative
Allergen information: Contains Sulphites
Volume: 12000 milliliters
Country of origin: Germany
HS Code: 22029090
For more details about this offer, do send us your inquiry and receive a quotation within 24 hours. Besides Monster energy drinks, we have wholesale red bull energy drinks, Heineken Beer, Jack Daniels, Corona Beer, C4 energy drinks,  hell energy drinks, and much more. In addition, you can check out our catalog on wholesale drinks.