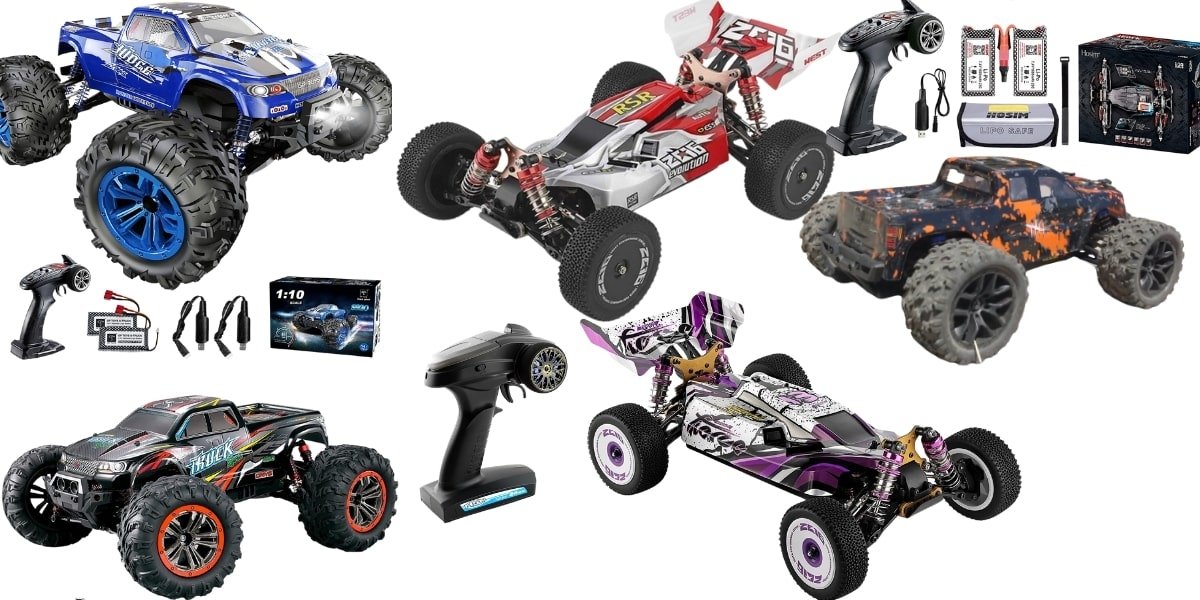 So you're looking for new cheap Remote Control Cars under 300 dollars and you potentially want to get into the RC hobby. You want to know the best RC Cars to go for if you are a tight budget.
Today, we will look at the top 5 budget RC Cars under 300 on Amazon. I have also included the links on each RC so that you can check the exact model on amazon.
Please don't forget to share this article if you got value out of it. Sharing this article could also help others on a tight budget to find the right RC car that costs less than 300.
Are you ready? Let's go!!
1. SOYEE RC CARS GP TOYS JUDGE EXTREME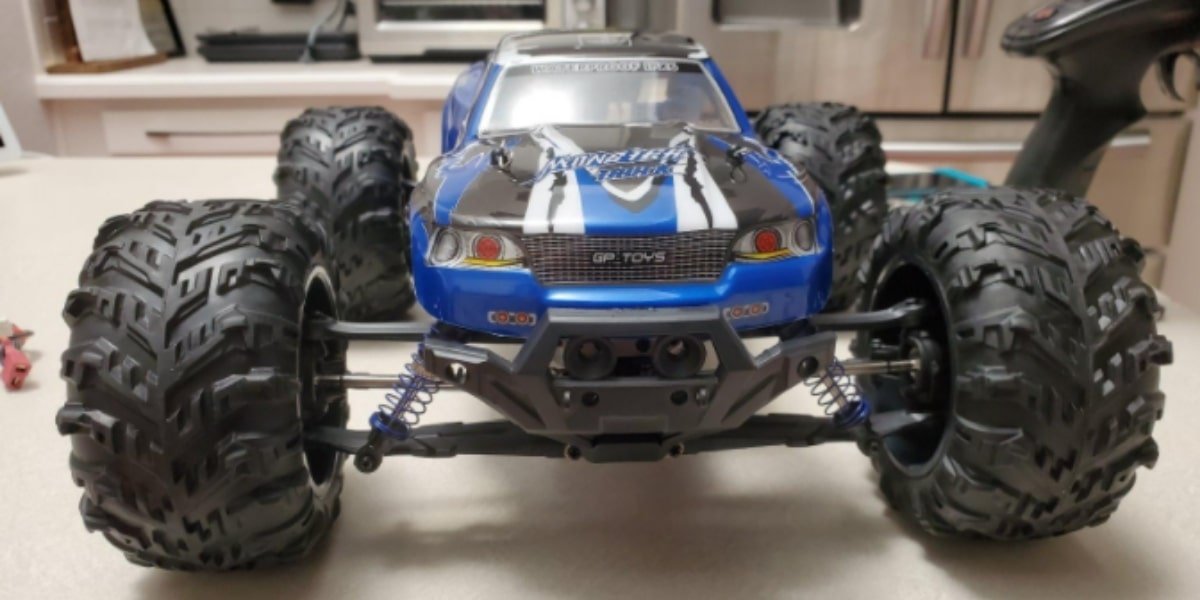 The first thing I like about this RC Truck is that it comes with 2 batteries. If you run both batteries with the connector, you get 30 plus minutes of runtime. I don't know about you, but to me, that's a lot of bashing to do in 30 minutes.
The second thing I like about this Monster RC Truck is that it is waterproof. Although this RC is water-resistant, you shouldn't submerge it in water. Nevertheless, you can drive it through mud, potholes, and other swampy areas without fearing it will go bad.
The third feature I like about this truck is its 4-Wheel Drive. You can run this RC on every terrain without any obstacles to getting stuck. The great thing about this feature is the metal axles and metal drive cups. So they are unlikely to break when it meets a hash obstacle.
What should you expect to see if you go for this RC Truck?
Here's everything you will find once this truck reaches your home address.
A connector.
With this connector, you can run both of these batteries at once. And you'll have to strap that in with a strap that comes with it. You can still run on a single battery at half the runtime. But the nice thing they're doing on the newer models is the two chargers you will get.
So as long as you got two USB plug-ins or places to put these, you can charge the batteries simultaneously. I mean, that's a real nice touch on it.
Twin Motors.
The SOYEE RC Truck also comes with twin motors that are 390 motors. The twin motors give this RC Truck 45-degree climbing capabilities even on a slower run.
Aluminum Differentials.
Aluminum differentials help in keeping the oil cooler, and they can hold tighter tolerance. Unlike other plastic models that could melt when the oil gets very hot, this is not the case with this RC.
LED Lights.
This RC truck comes with Front and Rear LED lights. These LEDs are practical if you love driving this RC at night. That's a nice touch. Don't you agree?
This SOYEE RC Truck also comes with a 2.4GHz Radio Controller and a user manual. In addition, this RC also comes with six inbuilt shock absorbers. The user manual will help you navigate your way for a smooth and easy run.
2. HAIBOXING 1:18 Scale RC Monster Truck.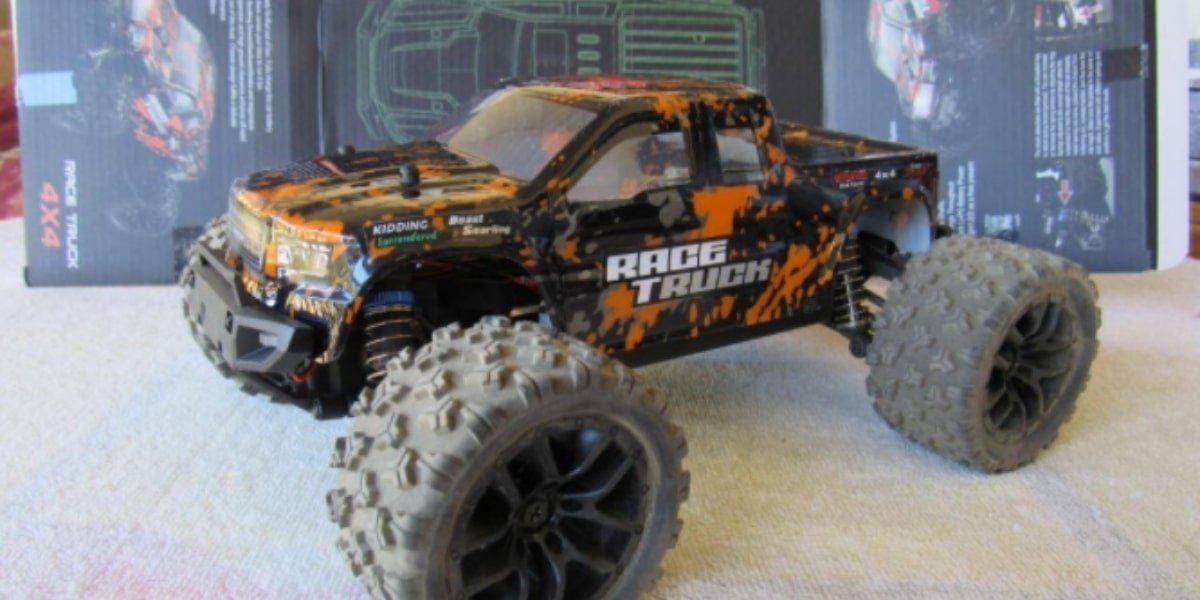 One cool thing about this HaiBoxing Monster Truck is its durability. This truck is waterproof. Once again, you don't want to submerge it in water. But you can run through puddles and stuff without running into any problem.
Let's go ahead and take a look at a couple of things on here that I like about this RC Truck.
Despite this Monster Truck's great looks, it has a small controller, which is a lot easier to handle than conventional controllers. The controller's size comes in handy if you are traveling and don't want to take up a lot of space.
What will you get if you go for this HaiBoxing RC Truck Model?
Let's take a look at the unboxing of the RC truck. Below are the different components you'll get.
Controller.
The controller also has a low and high-speed option which is very thoughtful if you have kids. Your kids can use the low-speed option to learn how to use this RC easily. The ability to switch between speed options could help you get a feel of the RC if you are a beginner.
Body Clips.
Another thing I like about HaiBoxin RC Trucks is that they come with body clips. Body clips are small twisted metal wire components that securely hold the chassis onto your RC car.
Note: Bodyclips are easy to lose! So it's worth having a few spares.
The body clips that come with this RC Truck have little extended rubber on them. That's practical when it comes to getting the pins on and off.
Metal Shafts.
This RC Truck comes with metal shafts on it, so you don't have to upgrade them. They got excellent knob tires on it.
2 Lipo Batteries.
It comes with two lipo batteries and a USB charger to charge those lipo batteries.
To get the most out of these batteries, I recommend getting a Hobby Grade Charger to charge your batteries. But at least you get a charger that will get you up and going to play run this RC Monster Truck.
LED Headlights.
This RC Truck comes with just LED headlights. So if you prefer RC's with both front and rear lights, this Monster Truck might not be for you.
380 Motor.
Another great thing I like about this RC is that it comes with a 380 motor. You will be surprised how far fast this 380 motor can move this little RC Truck.
3. WLTOYS 124019 Remote Control Drift Car.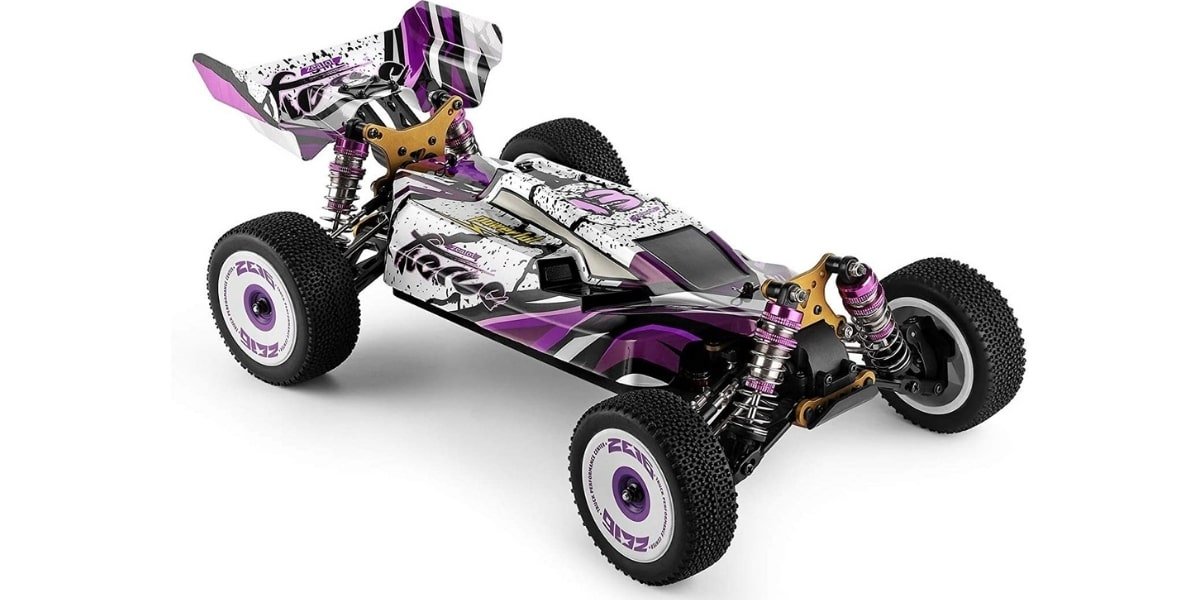 Although this RC drift car is not the cheapest on the list, it is pretty reasonable for the amount of fun you will get.
If you are looking to do speed runs, this RC drift car is an excellent choice. On the contrary, if you're looking for a cheap casual durable basher, the 124019 may not be the best choice for you.
There's one thing that stands out about this RC drift car. And that is the fact that there are a lot of metal components. It is not common to get a Remote Control car at this price range with many metal components.
The 124019 is an excellent ready to run small RC drift car. You do get everything you need to get going in the box, including;
your transmitter
A battery which is a 2200 milliamp 2s
A front and a rear drift
and ball bearings
4. WLTOYS 104001 RC Drift Car 1:10 Scale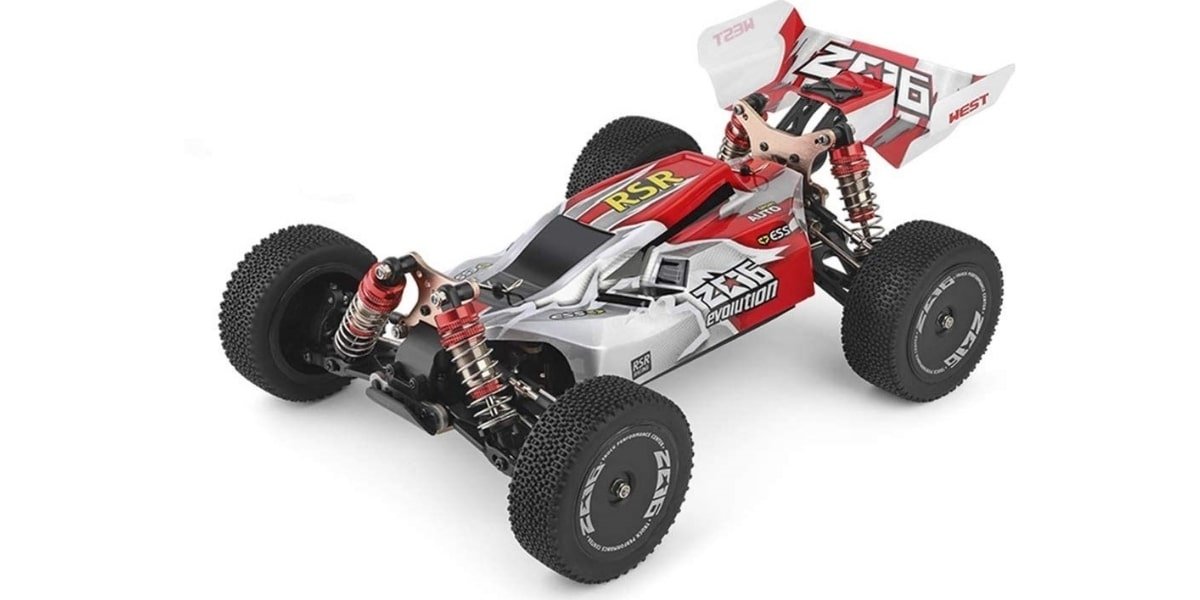 As of 2021, this is a brand new model RC drift Car from WLToys. I was very impressed with this RCs performance. So why does the 104001 deserve a spot on this list? Let's find out.
If you're looking for a well-made cheap budget 1:10 scale buggy, this drift RC car is worth considering. When you compare this RC with all the other 1:10 scale buggies out there, very few have similar features to this RC.
Just like the 124019, the 104001 have the same electronics components.
I am talking about the 550 size brush motor, the 2200 milliamp 2s lipo, and a USB charger. This Remote Control drift car has the same transmitter as that of the 124019.
The only difference between the 124019 and the 104001 is the ESC. Essentially, although it looks the same, it doesn't come with a fan. The fan is there to cool the ESC when it gets a little warmer.
We get silky smooth shocks, metal driveshafts, front and rear diffs, and ball bearings.
This RC drift car is impressive for the price. Apart from being slightly slower than other models, it is more durable and relatively cheap.
I think the 104001 models will be the one to go for if you have intentions to convert to brushless. But if you are looking for something a little bit bigger, consider the other RCs on this list.
5. Legendary Sonic 1:16 Scale Brushless RC Monster Truck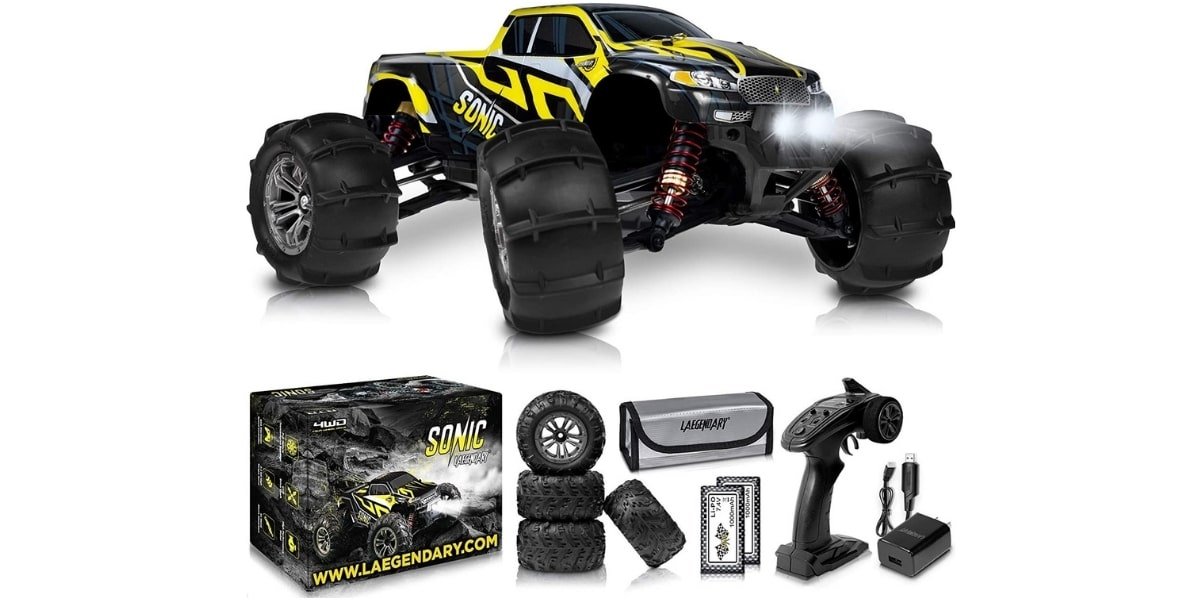 This 4×4 RC monster truck is a beast when it comes to running on rough terrains. It reaches a speed of 38mph or 60km/h, which makes it faster than most RCs for this price.
Like other RCs on this list, this Monster truck is waterproof, and it comes fully assembled. Since this RC monster truck comes fully assembled, you will be ready to run it right away. This RC also has a powerful built-in motor which makes it efficient to run on any surface.
The oil-filled metal shocks and heavy wheels make this RC suitable for all terrains for durability. You can run this RC Monster truck on concrete roads, at the beach, and on rocky terrains without fear of damaging it.
One well-thoughtful aspect of this RC truck is the 2.4GHz radio remote controller. This controller has 2-speed modes; a low and a high-speed mode. This feature comes in handy if you only have a smaller space to run your RC. So you might want to use the slow speed mode if you do not have enough space.
Unlike other RCs, this Monster Truck from the Legendary team has one of the finest maneuvers. Thanks to the four flexible shock absorbers, you can be confident that this RC will run adequately even on curvy terrains.
The Legendary team has taken precautions to put your safety first. That is why this RC Monster truck comes with a fireproof battery bag. I am sure you know the hazards these batteries could cause if you don't store them properly.
So what should you expect during unboxing?
If you prefer to go for this RC, below are the components you should expect.
2.4GHz Radio Controller
4 Offroad Tires
USB Charger and plug
2*7.4V LI-PO Batteries
1 Battery Fireproof bag
And a User Manual
Before we conclude, I will like to draw your attention on the two main types of Remote Control Cars Motors. It is important to know these motors, because knowing them will enable you to make a good decision based on your preference. So let's look at the Pros and Cons of each motor type, and hopefully help you to choose the right one.
Brushed Or Brushless Motors Remote Control Cars?
Today, I won't bore you with the technical details. Instead, I will tell you their practical advantages and disadvantages in real-world scenarios. Once you know these pros and cons, you will make the right decision depending on your preference.
BRUSHED MOTORS
BENEFITS
Brush motors are exceptional options for vehicles designed for rock crawling. That's because they offer much better low-speed control RCs, which is crucial for this type of RC vehicle.
They're much cheaper than brushless motors… but that comes with a cost because they're not exactly the most durable options.
MINUSES
They require maintenance and do not have a long service life. This is because they have brushes (as the name suggests) that wear out with constant use.
Brush motors also require some maintenance in the form of occasional bearing lubrication.
BRUSHLESS MOTORS
BENEFITS
Well, for starters, brushless motors are more durable due to the lack of brushes or similar parts that wear out from use.
In addition, they also offer much more power than brushed ones and are also better in terms of power-to-weight ratio. So those looking for high-speed RC cars are better served with brushless motors.
MINUSES
However, if you are looking for more precise control at low speeds, brushless RCs are not for you.
In addition, brushless motors are usually more expensive than their counterparts with brushes. So remember this before making your final decision about buying a particular drone.
Conclusion
So these are my top 5 picks when it comes to the Best Remote Control Cars under 300 dollars. I will be bringing you more of these RCs as time goes on. Stay tuned. But before you go, it will mean a lot if you could share this article on your favorite social platform. This way, you will be helping others to discover these RC cars for under $300.
Furthermore, You can also check these article on 7 things to consider before buying your first RC.