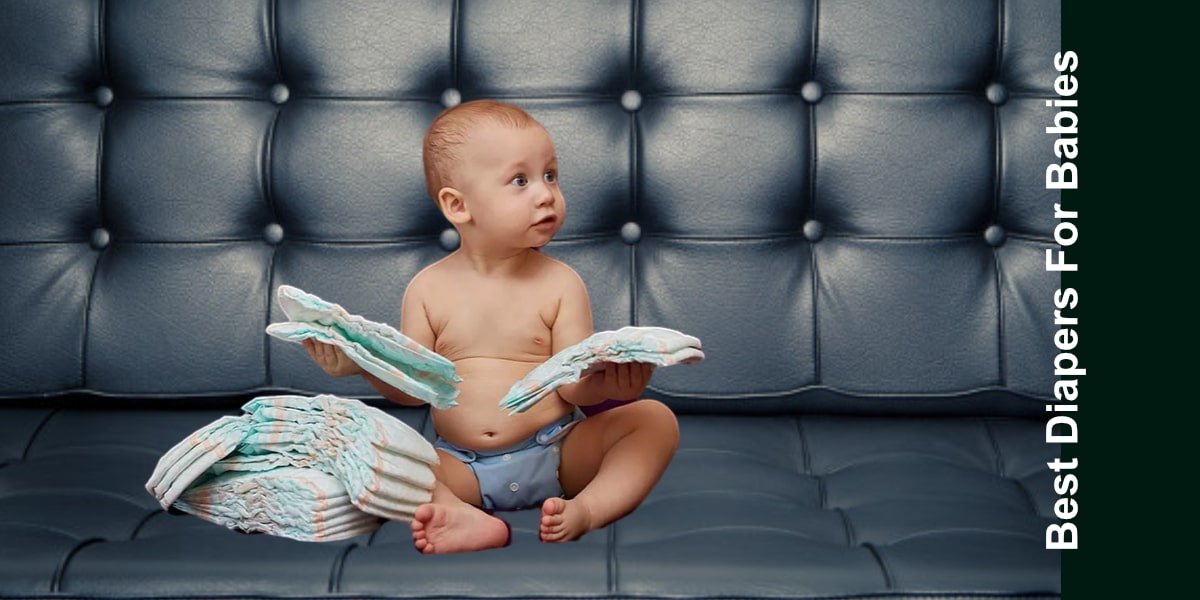 Like most of you with newborn babies or kids, I have often wondered how to get the best baby diapers in bulk at incredibly affordable rates. Often, we all need to stock diapers at home for babies or kids to use for a while. Luckily for us, some online marketplaces and companies can offer us cheap but high-quality diapers in bulk for our little cuties.
You might already know most of the big companies that supply baby diapers in both single units and bulk. No matter if you are in the US or elsewhere, you can just sit at home and order these diapers. The companies that supply these baby diapers are the likes of Amazon, eBay, Walmart, Target, and other suppliers who have monthly subscription programs. Note that these suppliers are mainly serving customers whose babies or kids are the end-users of these diapers. For wholesalers, you might want to check the wholesale diapers supplier here. 
List Of Best Baby Diapers You Can Get Today In Bulk At Cheaper Rates.
I know going through these marketplaces to find the best deals for baby diapers and nappies is not very fun to do. I have done some research and put together these amazingly cheap but highest quality baby diapers you might want to consider today. It doesn't matter if you are a pampers fan or, you love Huggies or, other brands, I have included them all on this list.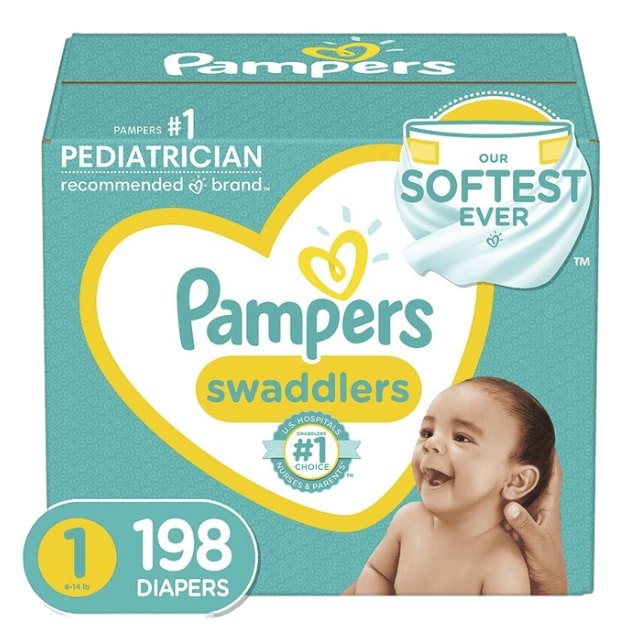 Pampers Swaddlers Diapers For New-born / Size 1   $48.22
This pampers swaddlers is a monthly pack and it's the No. 1 seller on Amazon US. The delivery cost is absolutely free as long as your delivery address is within the United States. The 2x softer nature of these diapers has earned its position among the most recommended new-born baby diapers by Hospitals. 
There is an air-channel that allows air to reach your baby's skin to keep it fresh and dry for absolute comfort. Other diapers are good but do not have the softness level of this diaper which makes it the ideal choice for new-born babies. Below are some Pros and Cons you might want to consider before deciding on whether this diaper is good for your new-born baby.
Pros:
Keeps your baby soaked-free all night which means good sleep for both of you.
Cheaper rate when you buy in bulk thus, saving money for other things or goodies for your baby
Gives a great deal of comfort to your baby since it will be very gentle on your baby's skin. It feels on the skin like clothes diapers
You will have no stress and worries of constantly checking if your little cutie has messed up the diapers. This stress-free advantage is due to the wetness indicator which shows you if it's time for a change.
Unlike other diapers, this one has a built-in leak protection layer which prevents poop or pee leaking out of the diaper. This means less work for you and no more worries about poop stain on your sheets or couch.
Cons:
If your baby has super sensitive skin, using this diaper might lead to some rashes. If this happens, use over-the-counter products like A + D, Balmex, Desitin, Triple Paste, and Lotrimin to get rid of the rashes. Most babies do not have this issue.
If you forget to check the wetness indicator, you might have to deal with leaking and the mess overflowing from the diaper. Otherwise, you will be fine if you at least stay a little vigilant.
Huggies Lovers
This is another Monthly pack and Amazon choice for Huggies lovers available in all sizes from newborn to size 6. This is Huggies softest diapers ever made. It has a combination of performance and premium softness that leave your baby with a healthy skin and a comfortable feel. This huggies diaper also has a leakage protection layer that keeps the moisture away from your baby's skin for up to 12 hours. The is a breathable outer layer that provides maximum air flow to help keep your baby's skin dry. With the plant based materials used in making this diaper, you no longer have to worry about allergic reaction to your baby.
Pros:
Great for sensitive skin. You don't have to worry anymore about allergic reactions to your baby's skin because this is a plant based diaper.
Soft and breathable diaper for your baby's absolute comfort.
Presence of a wetness indicator will notify you of changing time.
Available in different sizes and different counts. There are counts that will last you for over a month
Cons:
The fit might be a little off and too long for your baby. It might have a saggy bottom look due to the cuts.
This diaper might not be able to hold breast milk poos for up to 5 hours. It all depends on the texture of your baby's breastmilk poop. You might want to try it out to know if that's the case.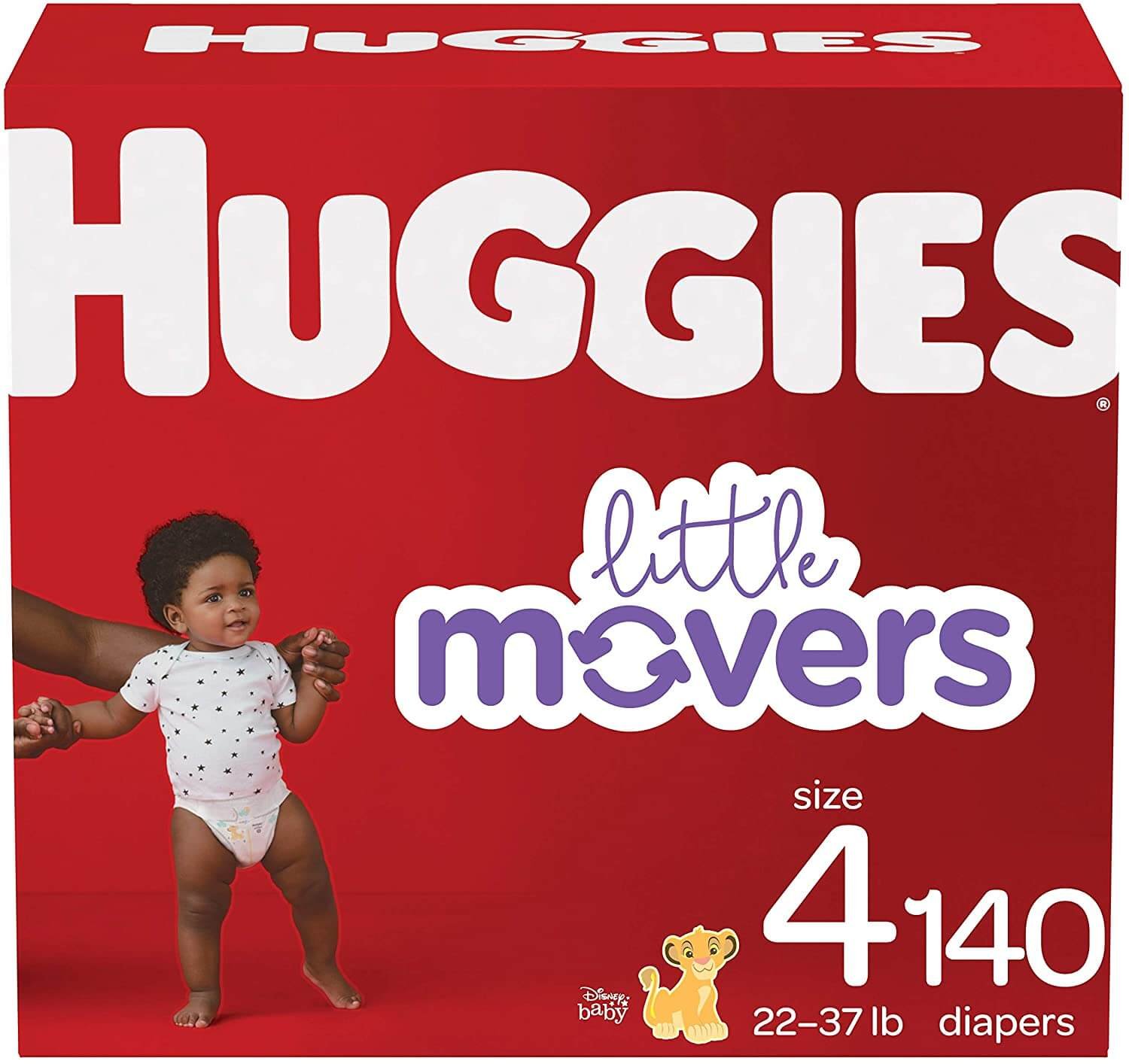 Huggies Little Movers
The Huggies little Movers diapers are designed for babies who are already creeping, walking and moving a lot. This diaper has a double Grip strip that is holding the diaper in position whenever your baby is playing. Your baby can sleep peacefully and irritation free for up to 12 hours due to the Dry Touch liner absorbing wetness layer. Since there are no fragrances, lotion, paraben, elemental chlorine, and natural rubber latex, it reduces the chances for your baby to develop rashes.
Pros:
Very difficult for your little boy to pee out of the diaper. This means you do not have to worry about cleaning unnecessary mess on the your bed or couch because it can hold a lot of urine
If your baby has a sensitive skin, you no longer have to worry about this issue anymore. The reason being its a plant-based diaper and super fast absorbency rate which keeps your baby dry and fresh.
Perfect for night time use in order to give your baby a sound and comfortable sleep. You know your sleep quality depends on how well your baby can sleep.
Easy air circulation for your baby and completely breathable.
Available in multiple counts and sizes which can take your baby for up to a month.
Cons:
Can leave marks on your baby's waist where you secure the elastic at the back. The simple fix here is just to move 1 size up.
If you are all about style, this might not be the best diaper for your baby. The cuts are too big and it might have a puffy look on your baby.
It can't keep the urine smell within the diaper after 2 times of peeing. So if your baby urinates twice on the diaper, you will start smelling the pee.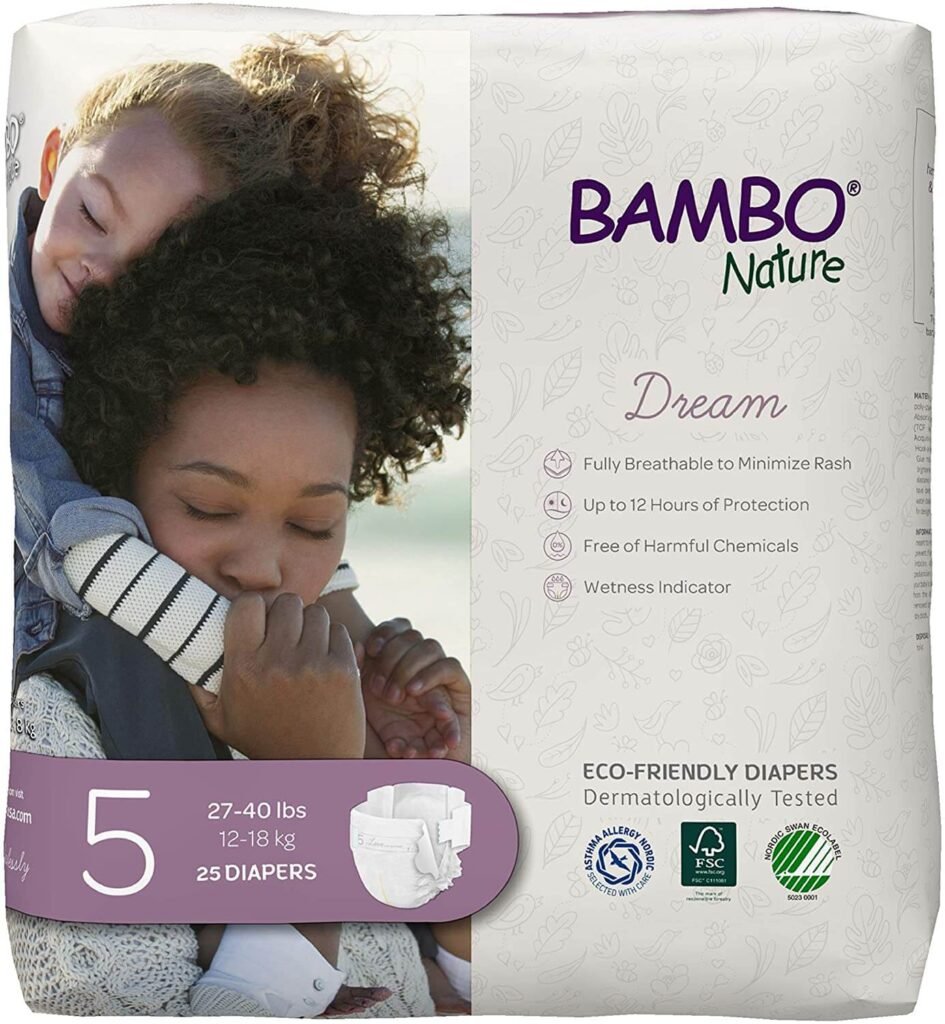 Bambo Nature Eco Friendly Premium Diapers For Babies
If you have been looking for an eco friendly diaper, then Bambo Nature is the right brand for your baby. This diaper is for babies with super sensitive skin and are dermatologically tested and found free of all allergic reactions. Give your baby a diaper that is free from perfumes and other harmful chemicals. There is also a wetness indicator on the diaper to signal change time. The fully breathable backsheet of this diaper prevents your baby from having rashes.
Pros:
Free from harsh chemicals so your baby will be free from rashes
Super comfortable for your baby even while moving a lot due to its full breathable back-sheet.
Presence of wetness indicator to inform you of when to change the diaper
No more worries about your baby's sensitive skin because it even feels like clothes diapers.
Great anti leaking channel to prevent overflow of pee or poop. This makes it ideal to have since you no longer have to worry about stains on your furniture or pee smell.
Cons:
To prevent leaks, you have to adjust the elastic on the legs and on the back. Failure to adjust these elastics will lead to a total mess on your baby after he or she poops.
This diaper can't hold pee or poop for up to 12 hours like other diapers on this list.
Price is a little bit expensive for the one month supply. But since it's eco friendly, I guess it explains the pricing.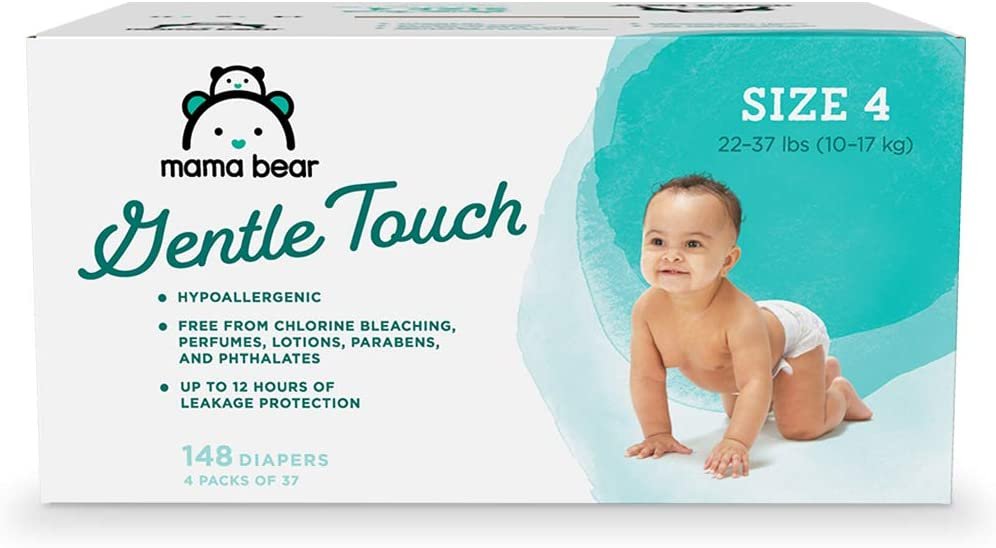 Mama Bear Gentle Touch
I would consider this list incomplete if I do not make mention of Amazon's own Mama Bear Gentle Touch baby diaper which they offer in bulk. With the 12 hours protection layer, you can be rest assured that there won't be any leakage for up to 12 hours. The in-built wetness indicator makes it very easy to know when it's time to change. It is also super comfortable due to its breathable outer cover which helps in keeping your baby's skin dry and healthy.
Pros:
Amazon will refund you within a year if for any reason you are not satisfied with this diaper. This is how much confidence they have in this baby diaper.
A 12 hours protection layer gives you and your baby a sound sleep all through the night.
No rash for your baby because it is free from perfumes, chlorine bleaching, lotions, parabens as well as phthalates. The absence of these harmful substances makes this diaper an ideal choice for your baby.
No matter how much your baby pee or poops, the anti leaking layer would hold it for a longer period of time in a separate chamber so that you baby remains comfortable before you change the diaper.
Cons:
Must pay attention to this diaper's wetness indicator because if not, your baby will be walking around with a bowling ball between his or her legs.
Some people prefer buying diapers in bulk for their cute baby on a weekly basis or on a monthly basis. There is also a stress free way to get cheap but high quality diapers in bulk delivered to your address every month. This is great because you only pay a fixed rate for monthly supplies of diapers for your baby. You could also get some free baby stuff from time to time as a member of such programs.
There are two biggest programs that I can think of which is highly rewarding to you as a member. You can as well unsubscribe if you are no longer in need of these goodies. Let's face it, although you will always be a mom, your baby won't always be a baby. So there must come a time when you say Chao!!