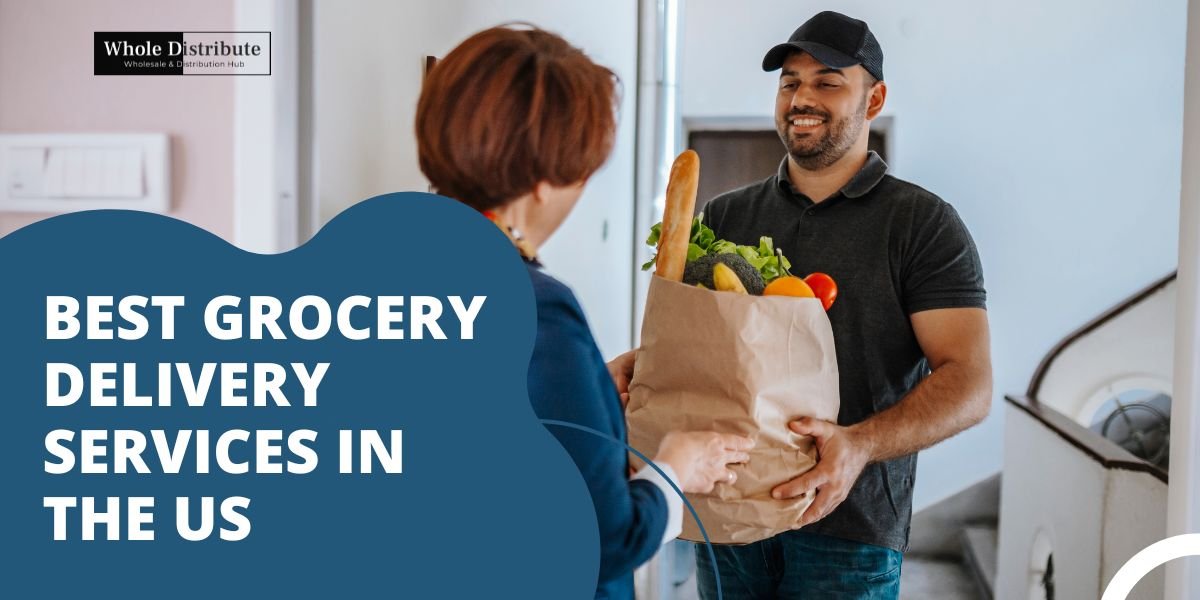 Grocery shopping is a chore we all have to do. Luckily, you don't have to make multiple trips to the grocery store anymore. There are now several companies that offer same day grocery delivery right to your door steps. With such amazing and convenient services, you can order everything from eggs and milk to steak and wine, and have it delivered right when you need it.
For a quick preview, here are the best grocery stores offering delivery services in the US.
There are many grocery delivery services in the United States to choose from, but we've rounded up the best of the best. We have selected these grocery supermarkets based on;
Where they deliver in the US
What is their minimum order
How fast they deliver
The benefits of their membership fees and how much it costs
1. AmazonFresh
AmazonFresh is a grocery delivery service that is part of the Amazon Prime membership which offer same day deliveries. This means you can order from a variety of stores, including Whole Foods, Costco and more.
AmazonFresh supply groceries in the following categories;
Fresh fruits and vegetables
Meat and seafood
Pantry Staples
Alcoholic Beverages
Bread, bakery and snack food items
Other grocery items such as paper towels, cleaning supplies, dairy foods, baby care items, and much more.
Basically, you can get any grocery item at AmazonFresh and have them deliver it straight to your house. Here you can see the different groceries they can deliver to you within 24hours of ordering.
Cities they cover in their Grocery Delivery services.
AmazonFresh delivers groceries to the following states; California, Colorado, Florida, Georgia, Hawaii, Illinois & Indiana, Maryland & Washington DC. They are constantly expanding their delivery coverage capabilities. So it shouldn't surprise you if your state has been included today.
What is the minimum order at AmazonFresh?
The minimum order at AmazonFresh is $35. You can mix and match grocery items. So if you only want to buy a few things, that's okay. But if you want to get the most out of your membership, it might make sense to order more than just one or two items at a time.
What is the delivery time for AmazonFresh?
AmazonFresh grocery deliveries take from 2 to 4 hours. You can select a same-day or next-day delivery window in your order. If you select a same-day delivery time, your groceries will be delivered within the next hour (if possible).
The next-day delivery window starts at 8 a.m. and ends at 10:30 p.m. If you select the latest time slot, your groceries will be delivered within the next business day (if possible).
How much does AmazonFresh cost?
AmazonFresh is available to Prime members for no additional cost. If you're not a Prime member, you can pay an annual fee of $149 for free two-day shipping on non-perishable items and $299 for free same-day delivery of fresh groceries.
This grocery delivery service also offers a monthly payment plan for Prime members: $14.99 per month plus a $99 annual fee. This gives you free same-day delivery on fresh groceries, but not non-perishable items.
Benefits of using AmazonFresh's Grocery Delivery Services
AmazonFresh offers benefits that are similar to other grocery delivery services, such as:
Convenience: You can shop for your groceries online or through an app and have them delivered right to your door. This makes life much easier if you don't have time to go out shopping or just don't feel like it.
Price: AmazonFresh offers competitive prices on a wide range of products. You can save money by shopping online and having your groceries delivered to you instead of going out and buying them yourself.
Selection: AmazonFresh offers a wide variety of products, including fresh produce, meat and seafood. You can also find many household items at low prices through this service.
Quality: AmazonFresh offers quality products and fresh produce. They have a wide variety of items to choose from, including organic foods.
2. Instacart
Instacart allows customers to order groceries online and have them delivered by personal shoppers, who will shop for you and bring the items directly to your door.
Instacart has a wide selection of products, including organic and gluten-free items, as well as those that are free of genetically modified organisms (GMOs) or artificial ingredients.
Instacart works with Sprouts Farmers Market, Rainbow Grocery, Mollie Stone's Market, Gus's Community Market, Safeway, Costco, Falletti Foods, HMart, The Epicurean Trader, Chef'Store, Andronico's Community Markets, and many more.
Instacart supply groceries in the following categories;
Fresh produce (fruits, vegetables and meat)
Convenience foods (sauces, spices and snacks)
Dairy products (milk, yogurt and cheese)
Baking supplies (flour, sugar, cooking oil etc.)
Beverages (tea, coffee and bottled water)
Household goods (paper towels, trash bags etc.)
Beauty products (toothbrushes, shampoo etc.)
Cities Instacart covers in their Grocery Delivery services.
Instacart covers more than 200 cities in the United States, including New York City, Chicago and Los Angeles. They also cover parts of Canada including Toronto and Vancouver. They plan to expand their grocery delivery service to more cities in the future.
If you are not sure if Instacart covers your area, use their zip code search tool to find out. If you do not see your city on the list, then they do not offer their service there yet. You can sign up for email updates to be notified when Instacart expands into new areas.
What is the minimum order at Instacart?
The minimum order at Instacart is $10. This is lower than most other grocery delivery services. You can add items to your cart until the total reaches $10, then checkout and pay for everything in one sitting.
What is the delivery time for Instacart Groceries?
If you place your order before noon, Instacart guarantees delivery by 6:00 p.m. the same day. If you place your order after noon, they will deliver it between 10:00 am and 8:00 pm on the following day. You can also choose to have groceries delivered as early as 7:00 a.m., which may be useful if you need to make breakfast for yourself or kids before work or school.
How much does Instacart cost?
Instacart has two subscription options: one is free but comes with a $5 delivery fee, while the other is $15 per month and includes unlimited deliveries. If you only order once or twice a month, the free option is probably best for you.
However, if you order more than that it might be worth paying for your groceries through Instacart instead of using your credit card at checkout each time.
If you choose the $15 per month subscription, there are several perks that come with it. For example, you can earn free groceries by referring friends and completing orders through their ios app or android app.
Benefits of using Instacart's Grocery Delivery Services
Instacart offers its customers with many benefits such as;
Referral Earnings: You can earn free groceries by referring friends. If you subscribe to their membership program, why not refer your friends? Once they sign up for Instacart's grocery delivery services, you will receive a $10 credit towards your next order.
Available Products: There is a wide variety of products available for purchase through their website and app. You can order from a wide selection of grocery stores including Whole Foods and Costco. You can also shop for items that are not available in your local store.
Lower Delivery Fees: Instacart's delivery fee is only $7.99 per order, which is cheaper than most other grocery delivery services out there! Instacart offers free deliveries on orders over $35 and free returns on items purchased through their website or app.
Delivers To Most Cities: They offer delivery services to most cities here in the US. If you don't live in one of their service areas, you can still use their app to shop for groceries. Instacart will send a shopper to your home and they will purchase the items for you at your local store. You can choose when you want them delivered and how much money you want to spend on each order.
3. FreshDirect
FreshDirect is a grocery delivery service that offers free delivery and grocery pickup. There are no membership fees, so you can order whenever it's convenient for you. The company delivers to people in New York City, Long Island and Westchester County—but not the rest of the state.
They offer over 20,000 products from over 300 different brands, including local favorites like Market 32 and Austin's Coffee. You can browse by category or brand name to find what you're looking for in their online store or use filters on their app to see which products fit into your diet preferences (like gluten-free).
If there's something in particular that strikes your fancy but isn't available at FreshDirect, there are ways to add it through special orders or by contacting customer service directly.
FreshDirect offers grocery deliveries in the following categories;
Fruits & Vegetables
Meat & Seafood
Dairy & Cheese
Deli & Bakery
Platters
Pantry & Beverages
Frozen Food
Beer & Cider
Wine & Spirits
Cities FreshDirect delivers To
Unlike other grocery delivery service providers, FreshDirect does not cover a whole lot of areas in the United States. The areas they deliver groceries to include:
New York: Brooklyn, The Bronx, Manhattan, Nassau, Queens, Rockland, Staten Island, Suffolk, Westchester
New Jersey: Bergen, Essex, Hudson, Mercer, Middlesex, Monmouth, Morris, Ocean, Passaic, Somerset, Union
Connecticut: Fairfield
Jersey Shore (only during summer)
Hamptons (only during summer)
What is the minimum order at FreshDirect?
Except for Hamptons and the North Fork where the minimum order amount is $99, for the rest of their covered areas is $30. This may be a little bit more than other services but it's still not bad considering how many groceries they deliver.
What is the delivery time for FreshDirect Groceries?
FreshDirect has both standard and express delivery schedules. Standard deliveries are generally made between 8:00 AM and 10:30 AM on the day of your order or the next day. If you're in a hurry, though, you can pay extra for an express delivery. Express orders will arrive in 1 – 2 hours depending on the delivery window which makes them an ideal choice for those looking for same day grocery delivery services.
The delivery cost for standard deliveries is $5.99 to $15.99, while the express delivery charge starts at $14.95. Again this depends on your area. Below is a quick price delivery table to see the charges for each city they deliver groceries to.
Benefits of using FreshDirect's Grocery Delivery Services
The biggest benefit to using FreshDirect's grocery delivery service is convenience. You can place your order online and have it delivered straight to your door step. This makes it easy to stock up on fresh produce that you need for recipes or meals without having to worry about running out of time or ingredients.
Another benefit to using FreshDirect's grocery delivery service is the wide range of groceries they offer. If you need something specific, they probably have it in stock. Whether you want to buy meat or vegetables, frozen or non-frozen items, FreshDirect has a wide selection of everything you could possibly need for your kitchen.
4. Shipt
Shipt is a grocery delivery service that works in conjunction with local retailers to bring you the best deals and products. Shipt is a membership-based service, but you can use it for free to try out their services. Their membership fees are very reasonable and allow you to enjoy unlimited deliveries from local stores at a discounted price.
Shipt currently services over 60 million people across the United States, Canada, and the UK. If you live close enough to one of these areas, they might be your best bet for groceries delivered right to your door!
Shipt overs the following groceries :
Fresh produce (like fruits and vegetables)
Dairy products (including milk and cheese)
Meat (like chicken and beef)
Baked goods (like breads, pastries, and desserts)
Cities Shipt delivers To.
They currently deliver to the following cities:
Albany, NY Ann Arbor, MI Atlanta, GA Austin, TX Baltimore, MD Birmingham, AL Boston, MA Charlotte, NC Chicago, IL Cincinnati, OH Cleveland, OH Columbus (OH), OH Dallas/Fort Worth (DFW), TX Denver.
What is the minimum order at Shipt?
Shipt has no minimum order amount requirements. However, orders that are below $35 are subject to a delivery fee of around $7. They offer a membership program that can help you save money on your order. The membership costs $99 per year.
What is the delivery time for Shipt Groceries?
Shipt offers same-day delivery service and can deliver within one hour of placing your order. The order must be placed by 10am for a 1pm delivery, or by 2pm for a 6pm delivery. You can also choose to have your groceries delivered the next morning if you place your order before 10am.
Are there any Benefits of Using Shipt Grocery Delivery Services?
Shipt has a few benefits for shoppers, including:
A personal shopper who will pick out items that are on your list. You can add items to the online cart and then have them added by your personal shopper.
Subscribers get exclusive discounts and offers from brands like Whole Foods and Publix.
Accepted Payment Method: Mastercard and Visa are accepted as payment methods. You can also use your Shipt membership card to make purchases online. In addition, you can earn points that can be redeemed for free groceries or discounts at certain stores.
5. Kroger
Kroger is a grocery store that has locations all around the US. They are a big competitor to Publix and have many of the same services. In fact, Kroger was one of the first companies to offer online shopping for groceries. You can sign up for an account online or in-store and then order everything from fresh produce to household cleaning supplies.
Kroger delivers a wide range of groceries including fresh meat and seafood, frozen foods, dairy products, bakery items and more. You can also order groceries for pickup at your local store if you don't want them delivered right away.
Here you can find a full list of the groceries they deliver.
Which cities does Kroger deliver Groceries to?
Kroger delivers groceries to most major cities in the United States. You can find a full list of cities here. If you're not sure whether or not your city is included, just enter your zip code on the Kroger website and they will tell you if they deliver there.
What is the minimum order for Kroger Groceries?
Kroger doesn't have a minimum order, but they do charge a delivery fee based on the size of your order. If you spend $50 or more, you will get free delivery. If not, there is a delivery fee of $9.95 per order.
When should you expect your groceries if you order at Kroger?
The company says that deliveries will be made within two hours of placing your order. However, if you live in a suburb or rural area, this may not be possible. Kroger also notes that it doesn't deliver on Sundays or holidays. They are also unable to deliver to P.O. boxes.
What are the Benefits of Using Kroger for your Grocery Shopping?
Kroger offers a wide range of fresh, organic and healthy groceries at a low price. You can also order specialty foods such as wine, beer or gourmet cheese if you want to add some variety to your meal planning. If you are looking for meat, Kroger has a wide selection including farm-raised chicken, beef and pork products.
Kroger also has a large selection of organic foods and products that are free of artificial colors, flavors or preservatives. This is an especially important consideration if you have children or are trying to eat healthier.
Kroger offers a wide range of services including home delivery, prescription pickup and curbside grocery pickup at many locations.
Kroger also has a rewards program that helps you save money on your regular shopping trips. You can earn points toward discounts by using Kroger's online ordering system and selecting the rewards option when checking out.
Bottom-Line
Although there are many other grocery delivery service providers in the US, these 5 are our top picks because they offer great products and services at competitive prices. If you are looking for a new way to save money on your grocery purchases, this list can help you find the perfect service provider.
If you are a wholesaler or retailer, you can check our top picks on best grocery suppliers in the US where you can purchase bulk orders at competitive wholesale prices.