Description
More details about this Wholesale Aptamil Baby Formula
No matter where you are in the world, your shipment can always get to you. This is because, we organize your order and ship it to your preferred destination without any issues. Order this bulk Aptamil baby formula now and replenish stock for your customers. We will generally respond to you as soon as we get your request. We are always striving for excellence in the wholesale domain by providing you with better customer experience.
Other Valuable Details of This Aptamil Milk
Age Group: Baby
Product Type: Milk Powder
Age: 0 – 3 Months, 1 – 2 Years, 2 – 3 Years, 3 – 6 Months, 3 – 6 Years, 6 – 12 Months
Feature: GM Food, Low-Carb, Low-Crab, Low-Fat, Low-Salt, Low-Sodium, Low-Sugar, NATURE, Non-Nicotine, Nutritious
Packaging: Can (Tinned)
Shelf Life: 2 Years
Brix (%): Standard
Purity (%): 100% Original Aptimal
Weight (kg): 800 Grams
PH Value: Balanced
Fineness (%): 100% Fit
Fat Content (%): Max 8%
Volume (L): 800G
Brand Name: Aptamil
In addition to the above details, below you will find the nutritional value of this nutritious baby formula.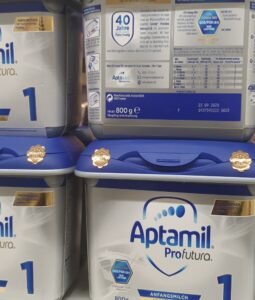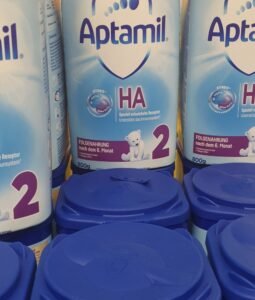 Specification Aptamil baby Formula
Energy: 66kcal
Protein: 1.3g of which whey is 0.8g, and casein is 0.5g
Carbohydrate: 7.4g of which sugars is 7.3g, and lactose is 7g
Fat: 3.4g of which saturates is 1.5g, unsaturated equals 1.9g, LCPs is 20mg, Docosahexenoic acid at 6.4mg, and Arachidonic acid of 11mg
Fibre: 0.6g and Sodium of 17mg
Vitamins
Vitamin A: 54µg-RE, Vitamin D3 is 1.2µg, Vitamin E at 1.1mg α-TE, Vitamin K1 is 4.4µg, and Vitamin C is at 9.2mg
Thiamin (B1): 50µg
Riboflavin (B2): 116µg
Niacin (B3): 430µg
Vitamin B6: 40µg
Folic Acid: 13µg
Vitamin B12: 0.18µg
Biotin: 1.5µg
Pantothenic Acid: 330µg
Minerals
Potassium: 65mg, Chloride: 42mg, Calcium: 47mg
Phosphorus: 26mg, Magnesium: 5.1mg, Iron: 0.53mg
Zinc: 0.5mg, Copper: 40µg, Manganese: 7.5µg
Fluoride: <3µg, Selenium: 1.5µg, Iodine: 12µg
Packaging
Container Type: Tin
Number of tins per carton: 4 tins
Cartons per pallets : 125 cartons
pallets per truck / container: 20 pallets
Units per truck / Container : 10000 units
Please kindly contact us using the button below, so that we can send you our soft offer. In addition to contacting us, you can also check our Nestle Nido milk powder if you are interested.