Description
Specification Of This Sunflower Oil For Sale
Below you will find the specification details of our high oleic sunflower oil for sale. You can contact us if the specification best suits your needs. We always strive by our quality is king concept. Therefore, we make sure to provide you with high quality sunflower oil year round. We are working with various manufacturers to ensure both quality and quantity.
free fatty acids (ffa): 0.1% Max
ash: 0.05% Max
Saponification value: 190.32 koh/g
Iodine value: 134.13 (wijs-hanus method)
Peroxide: 0.2 meq/kg
oap: 0.0005%
unsaponifiable matter: 0.12% Max
Impurities: None
saturated fat(-ty acids): 8-12%
unsaturated fat(-ty acids): 87-91%
Feeding energy: 900kcal
Iron : < 0.02 mg/lt
Fatty acid composition :
C14:0 :0.06 C16:0 :5.77 C18:0 :4.1 C18:1 :27.3
C18:2 :59.2 C20:0 :0.27 C18:3 :0.25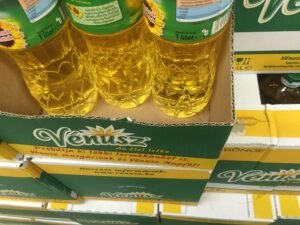 About Shipments
Shipments are well inspected and packaged before departure. We are shipping to multiple location based on our clients request. Shipment of our high oleic sunflower oil is done within 7 days of order confirmation. As a result, you can get your shipment fast. If you have a requirement, we are here to serve you. Send us your inquiry now by filling clicking the send enquiry button above. Moreover, we are here for you.