Description
More Information About Our Bulk Supplies of Sunflower Oil
Specification Of Our Sunflower Oil For Sale
Below you will find the specification details of our high oleic sunflower oil for sale. You can contact us if the specification best suits your needs. We always strive by our quality is king concept. Therefore, we make sure to provide you with high quality sunflower oil year round. We are working with various manufacturers to ensure both quality and quantity.
free fatty acids (ffa): 0.1% Max
ash: 0.05% Max
Saponification value: 190.32 koh/g
Iodine value: 134.13 (wijs-hanus method)
Peroxide: 0.2 meq/kg
oap: 0.0005%
unsaponifiable matter: 0.12% Max
Impurities: None
saturated fat(-ty acids): 8-12%
unsaturated fat(-ty acids): 87-91%
Feeding energy: 900kcal
Iron : < 0.02 mg/lt
Fatty acid composition :
C14:0 :0.06 C16:0 :5.77 C18:0 :4.1 C18:1 :27.3
C18:2 :59.2 C20:0 :0.27 C18:3 :0.25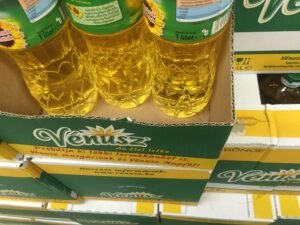 Packaging
We offer various packaging options depending on your specific needs as well as the popular requirements of your market. We understand that sunflower oil comes in different packaging bottle sizes and we are very much committed to providing you with the best packaging service. In addition to packaging, we strive to use the best and safest packaging materials. Furthermore, we offer, 1L, 5L, 10L packaging container as our standard options. But of course, we can narrow down to your specific requirements. We offer the various packaging:
PET Bottles: 1liter, 2liter, 5liter, and 10 liter
Glass Bottles: 250 milliliters, 500 milliliters, 750 milliliters, and 1 Liter
Tin Cans: 5liters, 10liters, and 20liters
PE Jerry Cans: 20liters
Steel Drums: 210liters
Flexi Tank: 20 metric tons plus.
Price  for our sunflower oil
The retail price of sunflower oil depends on the current form. You can either buy refined or unrefined sunflower oil depending on your current needs. Since most people inquire about the refined form, you should be looking at around $2.20 per liter from retailers. Of course the wholesale  price for sunflower oil is way lower than the retail price. Although these wholesale price fluctuates from time to time, you should be looking at at least $820 per metric ton.
About Shipments
Shipments are well inspected and packaged before departure. We are shipping to multiple location based on our clients request. Shipment of our high oleic sunflower oil is done within 7 days of order confirmation. As a result, you can get your shipment fast. If you have a requirement, we are here to serve you. Send us your inquiry now by filling clicking the send enquiry button above. Moreover, we are here for you.
Besides sunflower oil, we also supply other vegetable oil like coconut oil, olive oil, peanut oil, rapeseed oil, avocado oil, hempseed oil, and other nuts oil.